Prelude
Books
SEMTAP Handbook
The
Special Education Music Therapy Assessment Handbook
is a comprehensive, step-by-step guide to conducting special education eligibility assessments, including preparation, assessment elements, report writing skills and reminders. Forms for use in a related service eligibility assessment are included, as are reproduceable handouts to use in educating administration and parents.
ONLY SOLD TO BOARD-CERTIFIED MUSIC THERAPISTS (include your certificate number and cycle with your order)
$30.00
MT-SEAS: Music Therapy Special Education Assessment Scale (a supplement to the SEMTAP)
Developed by four music therapists who work for a special education co-op, the
Music Therapy Special Education Scale
provides an alternative to the data collection in the
SEMTAP
by providing a scoring system for the observation and music therapy assessment session steps. The scoring is based on developmental achievement in the major domains (physical, cognitive, communication, etc.) while retaining the key element of the SEMTAP -- the comparison of skills demonstrated with and without the support & facilitation of music therapy. The scores can provide a school district or co-op with a means for comparison among students evaluated for eligibility with the SEMTAP.
The MT-SEAS is not a complete assessment tool. It is designed for inclusion in a full SEMTAP report, and therefore is only sold with the SEMTAP. If you are a therapist who has already purchased the SEMTAP, please indicate this in your order, and we will confirm from our records.)
SEMTAP & MT-SEAS: $50.00
MT-SEAS only (for MT-BCs who have purchased the SEMTAP): $20.00
Songwriting for Music Therapists
This workbook takes you through the basics of three kinds of songwriting: (1) writing songs before sessions, to meet particular goals and objectives; (2) writing songs during sessions with clients, using the clients' words as lyrics and creating music for melody and accompaniment; and (3) writing songs "on the spot" with groups, including the use of blues progressions. The book is written in an informal style and includes musical examples from songs from the author's clinical work.
$20.00
Beginning Folk Guitar for Students With Special Learning Needs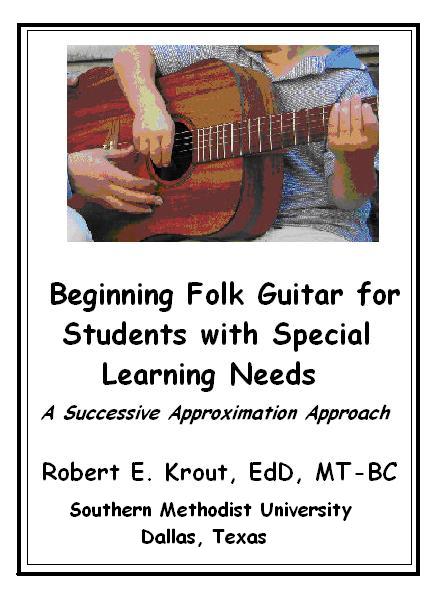 This teaching guide is based on a successive-approximation approach and includes both instructions for the teacher/therapist and materials for use with the client. A teaching outline, and instructions for how to use it, forms and charts, skill sections, one-, two-, and three-chord songs...everything you need is a part of this book. A remarkable value.
$18.00